The Trust is incredibly proud to announce that we are the first Multi Academy Trust in Cumbria to be officially recognised by unions for our work to help staff members flourish.
We have received a Valued Worker Scheme award, which is jointly promoted by the NASUWT, GMB, UNISON and Unite unions.
The scheme recognises employers who commit to treating all employees fairly, equitably and with dignity and supports good employment relations developed in schools and colleges.
The Trust's Chief Executive officer Claire Render said: "We are delighted to be recognised in this way and see this as a strong indication that we are successfully implementing our values.
"As our Trust continues to grow, this recognition will further strengthen our commitment to working with transparency and openness, to ensuring that our aims as a family of schools are clear to all and that our focus is our mission to provide an education that promotes life in all its fullness."
Since its formation in 2014, the Good Shepherd has worked proactively to foster good relationships with union colleagues. It has looked to embed the six guiding principles of the Valued Worker Scheme within its work and values as an organisation: striving to be there for the whole person, supporting them to achieve their potential as a student, or in their professional or voluntary capacity. There is also a renewed focus on Continuing Professional Development both for staff and for Local Governing Body members.
Claire added: "The wellbeing of our staff and communities is always at the heart of what we do as we believe that achievement can only happen when we support each other. Maintaining the wellbeing of all involved in our schools has been a key priority in navigating through the pandemic. Our senior leaders have met regularly via Zoom and as noted by one of our Headteachers they feel' truly supported and listened to' as part of the family of schools at the Good Shepherd Trust."
That support has also been reflected in the work of the Trust's central admin team which worked remotely but still maintained a service of care and guidance from budget reviews to policy updates. There were also regular meetings with Union partners to ensure that the Trust was doing all it could to support and help its staff through the last 18 months.
Brian Pearson, NASUWT Caseworker and Assistant Organising Secretary for Cumbria has praised the Trust's commitment to development and training, despite external funding pressures.
He said: "I've been involved with the work of the Trust since its inception and have always valued the proactive and positive way in which it works to constantly improve the working environment for all its staff, not just teachers.
"The Valued Worker Scheme was created to highlight the good work that so many schools and Trusts do and how good collaboration with the Unions supports this. The Good Shepherd Trust is an excellent example, constantly seeking to improve upon policies by asking our advice and opinion and working to ensure that their employees are happy, which in turn supports the success of the Trust. I believe it is a model to other Multi Academy Trusts and I look forward to continue working alongside its staff and senior leaders to help ensure there's a rich working environment for everyone."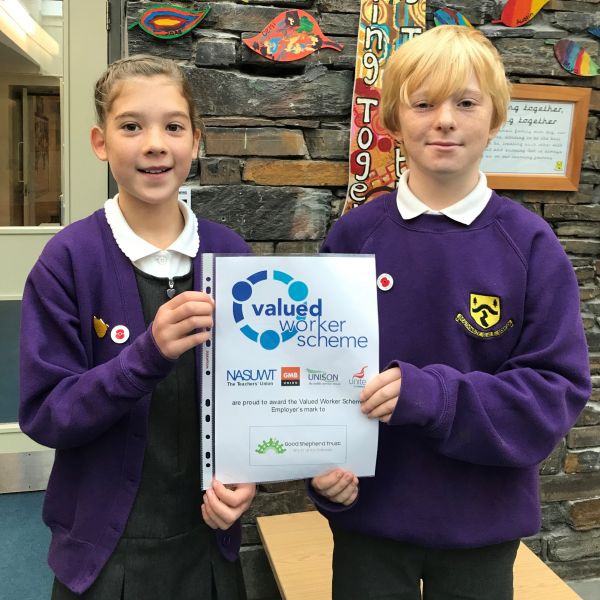 ---