Pam Weeden is back for 2023 giving insights into many areas of wellbeing to ensure the New Year gets off to a great start.
First of all, happy New Year to you all and I hope you have enjoyed a restful Christmas break. If you are anything like the members of my family, once the festivities were over, there was a gargantuan effort made to eat the remainder of all the 'good stuff', a giving away of unopened biscuits and chocolates to various people and a searching out of running shoes from the back of the wardrobe where they have sat since February last year.
A new year often brings with it a commitment to a whole new set of promises to do a series of things better; from the first of the month, we set off with determination into the world of New Year's Resolutions. And for some, those resolutions will remain intact and become a firm friend. My own coach is committed to getting up at 5am everyday to exercise and walk several miles every single day, no matter the weather; his family heritage is blighted by arthritis and he felt it making itself known in his own body. This resolution was his commitment to fending off the impacts as much as he is able. That was three years ago now; he hasn't missed a day. For the majority of us, however, we will fall off the wagon fairly quickly as we enter back into the routine of our regular lives and all that remains is a lingering and unhelpful guilt. And some running shoes that need putting back in the wardrobe again until next January 1st rolls around once more.
Rather than make hard promises we deep down know we can't maintain, sometimes a broader shift in perspective can be more impactful for our wellbeing and ability to achieve our goals. In his book Essentialism, Greg McKeown challenges some of those core assumptions that many of us hold in our psyche, such as 'I have to do everything' and 'we can have it all', and explores what happens to wellbeing when we replace that with the concept of 'doing the right thing, in the right way, at the right time'. He argues that this gives a person control of their choices and their energy, and reduces the risk of giving people implicit permission to choose for us. His vision is about helping people to decide what is essential, and channel energy, time and effort into pursuing goals and achievements that really matter to them. Essentialism, he argues, is mindset and a way of life.
Click on the book to access the website. Rather than making promises or resolutions you know you will forget or falter on, why not consider the impact of a shift in mindset instead.
---
Pam Weeden is a qualified professional Executive Coach and Mentor who is passionate about leadership development and believe in facilitating the growth of the person and the professional. Throughout the pandemic Pam offered pastoral support to the Trust's senior leadership team.
You can follow Pam on Twitter: @PamWeeden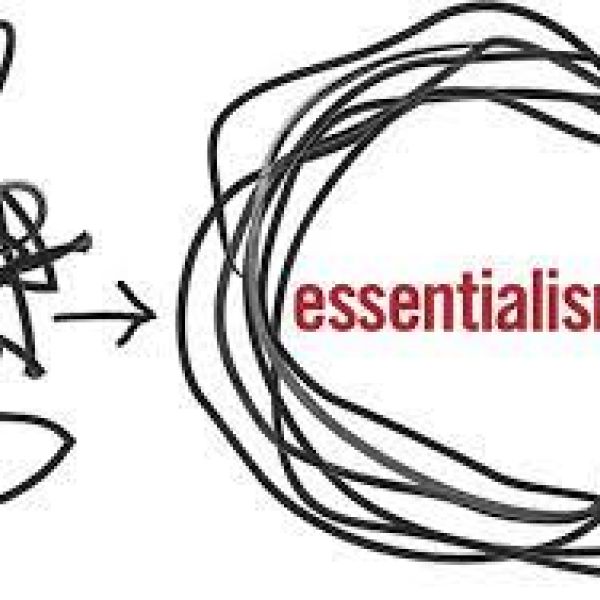 ---